Circus Theme Nursery
You can easily design a colorful nursery with a

circus theme

. The great thing about this theme is that it can be used not only for a nursery, but as a great bedroom for a small child as well.

If you are preparing your nursery ahead of time and don't know the gender of you little bundle of joy, this is perfect for you because it is a Unisex nursery.

You can incorporate the

cotton candy theme

with your circus nursery.
Getting Your Ideas

You can obtain your ideas from remembering what you saw at the circus.

Colors: You can find almost every color of the rainbow at a circus, from candy apple red, to greens, yellows, pinks and blues. You can use bright and bold, to soft pastel colors, or a combination.

Use solid colors with pastels for your accent colors.

Shapes: The circus is comprised of all kinds of shapes from the shape of the performance rink, tents, and even performers.

Senses: Use your senses to remember the aroma of the foods, the cotton candy, the popcorn and think about how you can incorporate those into your circus nursery or bedroom



Circus Theme Walls
The choices in wall colors are endless.

You can use wallpaper that requires no glue or scraping, that is actually removable and can be used elsewhere if you choose to do so.

Select patterns and colors from shapes, stripes, or solid. The circus, carnivals, movie/cartoon characters

Decals: There is a variety of decals with circus animals, clowns, balloons that can be used as wall accents which will brighten up the room and definitely catch the attention of your infant.

Wall Art: Wall art is great for adding color and decor. Once it is no longer needed, it can be wrapped up carefully and stored away until it is needed again.

Posters: Paper posters that can be hung as they are or after they are framed. Clown posters are lifelike and colorful


Pink Circus Carnival Little Lion Nursery Wall Art Print
by
Jujulili
Find other designs of Art &
Posters
at Zazzle.com
Elephant Bubbles Nursery Wall Decal Set ​

The

elephant bubbles decals

come in a variety of designs.

Removable, vinyl with matte finish.

Colors:

Grey

Light Blue

Lilac

Soft Pink

​White
Nursery Furniture

The style and color of the furniture should suit your needs and purpose, as well as make choices that will give you the best bang for your buck.

Learn the various types of beds and average over all costs. Cribs And Beds

There are companies who also sell various

circus style cribs

as well as other beds for children like elephant beds if you want to be extravagant. Of course the more budget friendly styles and colors will work well.

If you have someone who is good with tools, woodworking, maybe they could take your circus ideas and incorporate them with either making a bed or adding them to the existing crib or bed
Circus Bedding

You can choose

bedding sets

with matching draperies or simply purchase your draperies in another color to use as an accent color for the nursery.

Colors: You can choose solid colors, bedding with various shapes, stripes, that will fit your decor whether it is for a crib or younger child.

Of course there are circus themes with animals, tents, cotton candy and other patterns depicting things that are found at the circus for children of all ages.

If you want to stick with a budget, you will save dollars by purchasing crib sets rather than in separate pieces.

​
Chest of Drawers/Dressers

Instead of a small chest which will be outgrown quickly by the way of its usefulness because as the child grows, so does the amount of clothing that they have. There are ways to store baby bath soap, lotions, and powders, as well as diapers if you elect to not use a changing table.

Trays fit on top of your dresser or chest of drawers will hold all of the baby personal items. A wicker basket would be perfect since it can be used for something else later on.

There are diaper stackers which hang on the door to save drawer space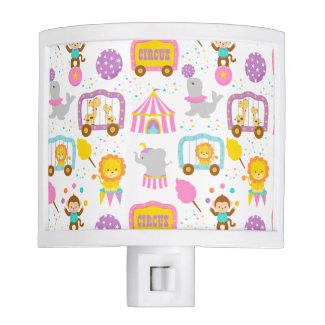 Cute Pattern Pink Circus Carnival Nursery Decor Night Lights
by
Jujulili
Find other Circus Night Light at
zazzle.com
Accent Pieces

Lamps

One of the accent pieces that you will want is a lamp. A circus character whether it is part of the base or part of the design of the lamp shade is perfect.

This Cocalo Circus Act Nursery Lamp with a monkey as part of the base may be outgrown by the child, but shades last for a long time. This shade can simply be used with another lamp base once the child outgrows monkeys in their bedroom,

The maximum bulb wattage is 60 watts which gives plenty of light. However, if you prefer enough light to see, but not so bright that it will startle the baby if sits close to them, I find that 40 watt bulbs work well.

Floor Covering

Personally, like so many others, I don't like carpeted floors.

If you elect to use area rugs, solid colors in red, blue, yellow, orange, or those that are striped or have other colorful patterns will work well with your circus theme.

An area rug is great for those little feet when they first get out of bed on a cold morning. The little ones find them amusing and may use them for a play mat.

Of course, they are perfect for that play room or special play corner too.


Storage

Storage That Lasts

When it comes to storage there never seems to be enough of it.

Kids definitely need a place for their toys, books and other treasures.

Instead of purchasing a toy box, why not consider a

wood chest

that the child will not outgrow and can also be handed down to the generations that follow them.

As they get older, and no longer use a toy box, this chest would work well for storing seasonal bedding and clothing